WELCOME TO THE LAB RAT LAUNCHPAD!

This is a step-by-step guide to making the transition from science star to business leader. The course is structured around six seemingly simple questions:
Why? Who? What? Where? When? How?

The challenge is: I cannot answer these questions for you. Lab Rat Launchpad is a reaction vessel to help you accelerate your transformation, but you are the catalyst. Curious? Scroll down for a preview of the course curriculum.

First: this is not another 'how to build a startup' course! This course is about personal transformation: lab rat to leader. This course will provide you with a step-by-step guide that will accelerate your transformation from scientist to entrepreneur by at least one year. I have made a lot of mistakes along the way. I continue to make mistakes. Lucky for you - I've done it wrong first so that you don't have to! I've also watched dozens of my deep tech founder friends struggle through this transition at Cyclotron Road. The Lab Rat Launchpad is a compilation of all of these learnings - this is a playbook for personal transformation.

If you don't feel like this course saved you a full year of figuring things out on your own - ask for a refund. You will leave this course ready to lead, or your money back.

If you want to get access to this material soon to accelerate your own transformation - the time is now.

PhD to CEO is all about giving researchers the tools they need to transform into business leaders. Let me show you how I've helped deep tech entrepreneurs, via these testimonials from my students:

"Lab Rat Launchpad is the perfect overview for anyone interested in entrepreneurship and coming from an academic background, like myself. Ray manages to provide both breadth and depth, going over a number of topics that are critical to consider before (and while) pursuing a hard-tech startup. Even having co-founded a hard-tech startup prior to taking this course, I found it incredibly useful as a refresher on key points that are easy to forget in the chaos of startup life. And what makes this course so effective is the fact that Ray speaks from experience and truly cares about sharing his knowledge. So regardless of what stage you are at in the transition from science to business, I would highly recommend checking this course out!"

- Nishita Deka, Chief Executive Officer - Sonera Magnetics

"Lab Rat Launchpad is a great resource for those who want to make a move toward entrepreneurship but does not know how and where to start. In his course, Ray breaks down complicated rules of the startup world into concepts familiar to a scientist, such as "ergodicity", "testing hypothesis", "mapping ecosystem", etc. Lectures are filled with interesting information (and further reading resources) and sometimes it takes a lot of time to process and understand it completely. Today we all are bombarded by information, and resources like this one (with all relevant knowledge in the same place) are extremely valuable. Overall, I really enjoyed the course and recommend it to all "future leaders of the free world"! ;) This course made tectonic shifts in my understanding."

- Danila Barskiy, Postdoc - UC Berkeley

"It is overwhelming moving a project from the lab to a for-profit commercial entity, especially as a scientist that prefers to do serious research before making any life-altering decisions. I often feel like I have to choose which fire to put out first. Raymond's Lab Rat Launchpad online course calmly and gently guides us through things that should be done early and are critical to success – like setting company culture. His encouragement is a huge plus."

- Melanie Pribisko, Professor - CSU Channel Islands


I was a lab rat. I still am a lab rat. I have spent every summer in lab since I was 16 years old. The lab is fun. Science is cool. The lab is safe, the lab is sacred. I discovered a lot of really cool things in the lab.

At some point I decided that a few of the things that I had discovered in the lab were not only important enough to patent and publish, but important enough that someone really needed to bring them out of the lab and into the real world. I decided that these inventions were important enough to me that I needed to leave the lab. I decided that I needed to leave the safety net of academia. I decided that I couldn't count on anyone else to commercialize my inventions. I decided that I needed to take the leap and do it myself.
This course is for others who are committed to taking that leap. It doesn't matter where in the process you are - you have my money back guarantee that this course will accelerate your growth. You might be just pondering the leap from the lab, or mid-leap with your commercialization plan, or even fully airborne with your startup. This course is for leapers. I can't guarantee success, but I will guarantee a smoother trajectory. I can't guarantee triumph, but I will guarantee transformation.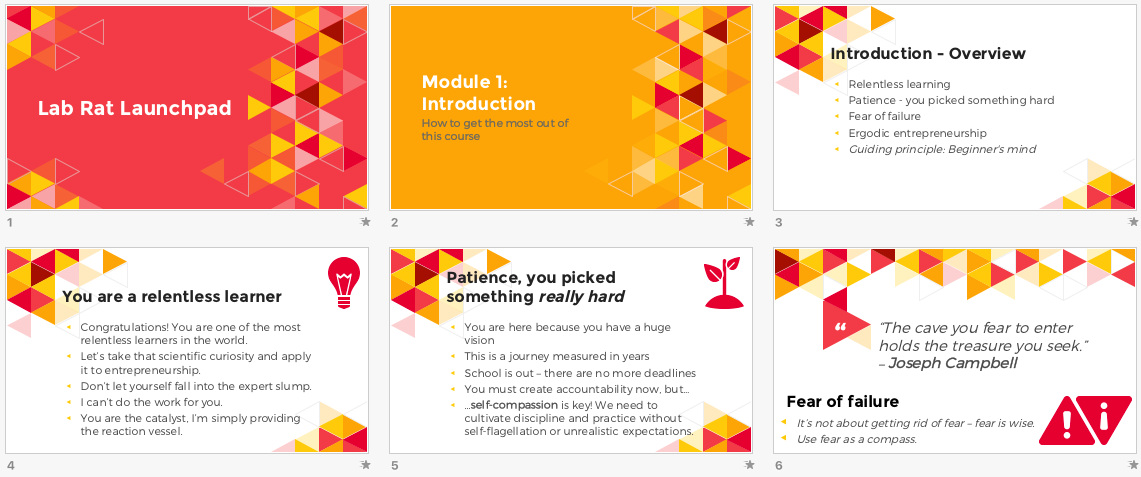 Each of the 6 modules contains:
Video lectures
Common rookie mistakes
Guiding principals
Experiments
Checklists
Exercises and writing prompts
Challenges to go rock it in the real world
Resources to dive deeper
...all with the intent of creating a container for your transformation, regardless of your level of experience or learning style.

Your Instructor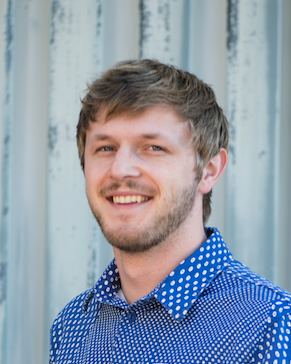 Dr. Raymond Weitekamp is the founder and CEO of polySpectra, an advanced materials company on a mission to transform polymer 3D-printing from a prototyping aid into a production manufacturing tool. Raymond is also a co-founder of Cypris Materials, which is reinventing color with its paintable photonics platform. Both Cypris and polySpectra are built on discoveries that Raymond made during his PhD research at Caltech, where he worked in the laboratories of Prof. Bob Grubbs and Prof. Harry Atwater. Raymond was a member of the founding cohort at Cyclotron Road, the groundbreaking hard technology innovation program at Lawrence Berkeley National Laboratory. Prior to Caltech, Raymond received an A.B. in Chemistry from Princeton University, cum laude. He is an inventor on 14 granted patents. Finally - Raymond curates PhDtoCEO.com, a website dedicated to helping scientists transition into entrepreneurship.
Recent & Relevant Accolades:
2019 Interviewed by Bill Gates for Netflix documentary "Inside Bills Brain"
2018 Cyclotron Road 'Pay it Forward' Mentorship Award (for PhD to CEO)
2018 Tough Tech Summit Panelist
2018 World Materials Forum Startup Challenge Finalist
2018 NSF SBIR Phase II Awardee
2017 Forbes 30-under-30
2017 NSF SBIR Phase I Awardee
2016 Winner: SF Cleantech Pitchfest
2015 Cyclotron Road Fellowship, Cohort 1
Course Curriculum
Pre-Course Material
Available in days
days after you enroll
Introduction, aka "how to get the most out of this course"
Available in days
days after you enroll
Frequently Asked Questions
When does the course start and finish?
This is a completely self-paced online course - you decide when you start and when you finish.
How long do I have access to the course?
How does lifetime access sound? After enrolling, you have unlimited access to this course for as long as you like - across any and all devices you own.
What if I am unhappy with the course?
I would never want you to be unhappy! If you are unsatisfied with your purchase, just let me know within 30 days of your purchase for a full refund.
Do I need to have a PhD to take this course?
No! But this course will make the most sense if you have been trained in a physical science or engineering discipline. It is not for people who want to get rich quick or whip up a mobile app.
What if I don't want to be CEO?
That is totally cool with me. In fact, I think this course will help you figure that out. My goal here is to create a valuable resource for anyone who wants to be involved in commercializing a physical science innovation. (Deep tech, hard tech, cleantech, biotech, tough tech, etc.)
Who is this course for?
This course is for innovators who want to change themselves so that they can change the world. This course is for relentless learners who are committed to taking off their academic hats to learn something new. This course is for inventors who are ready to get their ideas in contact with reality. This course is for lab rats who are ready to lead.
What if I have already started a company?
If your company develops real technology and you've raised less than $6 million to date, I think this course can help you.
What if I don't have a company yet?
Perfect! Let's make sure you are are prepared to lead before you take the leap!
This course is for individuals who want to take themselves to the next level. It will be hard work, even with all of my time-saving tips and tricks. I can help you avoid dead ends, but you're going to be the one pushing, putting one foot in front of the other. Lab Rat Launchpad is not a gee-whiz TED talk - it is not infotainment. You can't sit back and enjoy the show, sorry. Lab Rat Launchpad is a framework for you to efficiently accelerate your metamorphosis from thinking like a scientist to acting like a leader. I will be here to support you, but you have to do the work.
You are the catalyst, I'm simply providing the reaction vessel.