WELCOME TO THE LAB RAT LAUNCHPAD!

This is a step-by-step guide to making the transition from science star to business leader. The course is structured around six seemingly simple questions:
Why? Who? What? Where? When? How?

The challenge is: I cannot answer these questions for you. Lab Rat Launchpad is a reaction vessel to help you accelerate your transformation, but you are the catalyst. Curious? Scroll down for a preview of the course curriculum.

First: this is not another 'how to build a startup' course! This course is about personal transformation: lab rat to leader. This course will provide you with a step-by-step guide that will accelerate your transformation from scientist to entrepreneur by at least one year. I have made a lot of mistakes along the way. I continue to make mistakes. Lucky for you - I've done it wrong first so that you don't have to! I've also watched dozens of my deep tech founder friends struggle through this transition at Cyclotron Road. The Lab Rat Launchpad is a compilation of all of these learnings - this is a playbook for personal transformation.

If you don't feel like this course saved you a full year of figuring things out on your own - ask for a refund. You will leave this course ready to lead, or your money back.

If you want to get access to this material soon to accelerate your own transformation - the time is now.

PhD to CEO is all about giving researchers the tools they need to transform into business leaders. Let me show you how I've helped deep tech entrepreneurs, via these testimonials from my "How to Get Into Cyclotron Road" Webinar:

"I found the Cyclotron Road webinar to be very informative, helpful, and most of all concrete step-by-step how to apply for fellowship with great tips. Raymond and other presenters were extremely knowledgeable, engaging, planned the time well and kept the webinar on track while balancing the depth and breath of information."

- Sara Shahmohammadi

"Your webinar was very helpful. You might be surprised by how inspiring the simple statements were: "just do it" and "I didn't expect to win". The humility is inspiring. Keep up with your efforts, especially the things no one is asking for or expects."

- Dan M.

"The best thing for me about the webinar was that it demystified the process. You made it seem more real and open."

- Jeff Reiss


I was a lab rat. I still am a lab rat. I have spent every summer in lab since I was 16 years old. The lab is fun. Science is cool. The lab is safe, the lab is sacred. I discovered a lot of really cool things in the lab.

At some point I decided that a few of the things that I had discovered in the lab were not only important enough to patent and publish, but important enough that someone really needed to bring them out of the lab and into the real world. I decided that these inventions were important enough to me that I needed to leave the lab. I decided that I needed to leave the safety net of academia. I decided that I couldn't count on anyone else to commercialize my inventions. I decided that I needed to take the leap and do it myself.
This course is for others who are committed to taking that leap. It doesn't matter where in the process you are - you have my money back guarantee that this course will accelerate your growth. You might be just pondering the leap from the lab, or mid-leap with your commercialization plan, or even fully airborne with your startup. This course is for leapers. I can't guarantee success, but I will guarantee a smoother trajectory. I can't guarantee triumph, but I will guarantee transformation.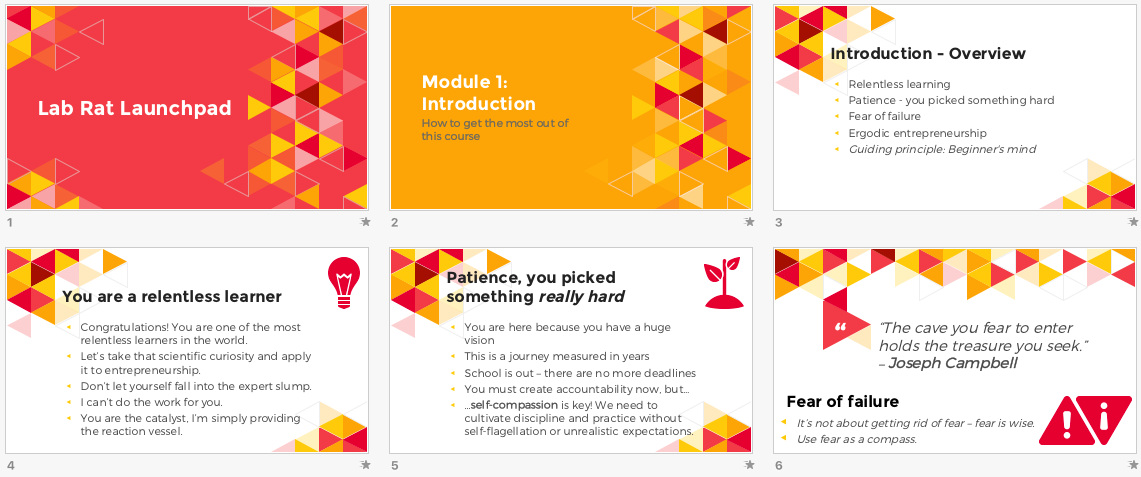 Each of the 6 modules contains:
Video lectures
Common rookie mistakes
Guiding principals
Experiments
Checklists
Exercises and writing prompts
Challenges to go rock it in the real world
Resources to dive deeper
...all with the intent of creating a container for your transformation, regardless of your level of experience or learning style.